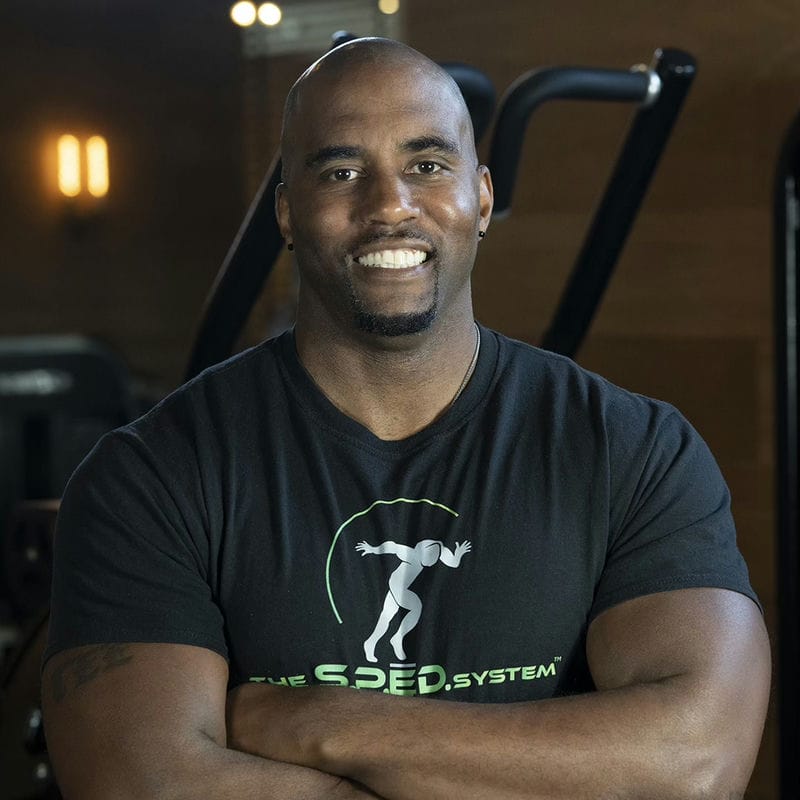 You'll gain the advantage of being supported by a team of coaches who utilize biomechanical principles to identify the most effective movement patterns for enhancing sport-specific techniques. Our program ensures you receive meticulous performance evaluations and speed analyses that combine observation and data analysis, offering athletes actionable steps to elevate their sport performance and minimize the risk of injuries.
The Speed System, developed by Tierre "Coach Tee" Jones, is a renowned program designed to enhance athletic performance effectively. As the owner and head Strength and Conditioning Trainer, Coach Tee has over 15 years of optimizing athletic performance. His expertise and passion have driven the creation of The Speed System, a comprehensive program that has transformed the performance of numerous athletes. His commitment to excellence and attention to detail have set him apart in the industry, earning him the trust and respect of athletes and coaches alike.
The Speed System offers you the following personalized training choices:
You'll have the opportunity to train with certified coaches who offer a wealth of knowledge and expertise to help you achieve your full athletic potential. Rest assured that you won't be paired with inexperienced trainers. Our coaches undergo a thorough testing and interview process to ensure they meet Coach Tee's high standards and are capable of delivering exceptional training to you.
Our training philosophy rests on four pillars
Our dedicated coaches pay meticulous attention to detail, working with over 400 athletes across different levels of development. Through our proven program, athletes experience transformative and impactful results, enabling them to excel on and off the field.
Sports Performance Assessment
Through our Data-Driven Assessment, you'll gain the ability to benchmark your performance against other athletes nationwide in your specific position. This provides you with invaluable insights and motivation to enhance your training and elevate your performance.
Coach Tee introduced the athletic performance program known as S.P.Ē.D. (Speed Power Explosive Development), which became a cornerstone of his training philosophy. The program's effectiveness and positive impact on athletes' performance soon led to its widespread adoption.
Coach Tee expanded his reach by collaborating with local high schools and lacrosse travel programs, exceeding the training of the 200th athlete. This milestone demonstrated the effectiveness of Coach Tee's approach and laid the foundation for future success.
The Speed System was established as a company, dedicated to Coach Tee's unique method for testing and training athletes. Furthermore, he developed a certification course for sport coaches and trainers, ensuring athletes worldwide could access his proven training methods.
Coach Tee's expertise and reputation continued to grow, leading him to travel around the country working with various high school and club teams. His ability to unlock athletes' true potential and deliver exceptional results earned him recognition and praise.
The Speed System boasts an impressive following, with over 90k organic Instagram followers and more than 400 trained athletes. The program's impact on athletes' lives and performance is undeniable.
The Speed System on Instagram at